Hostels: hotel sector revolution
Recent years have seen an exponential growth of a new type of accommodation: the hostel.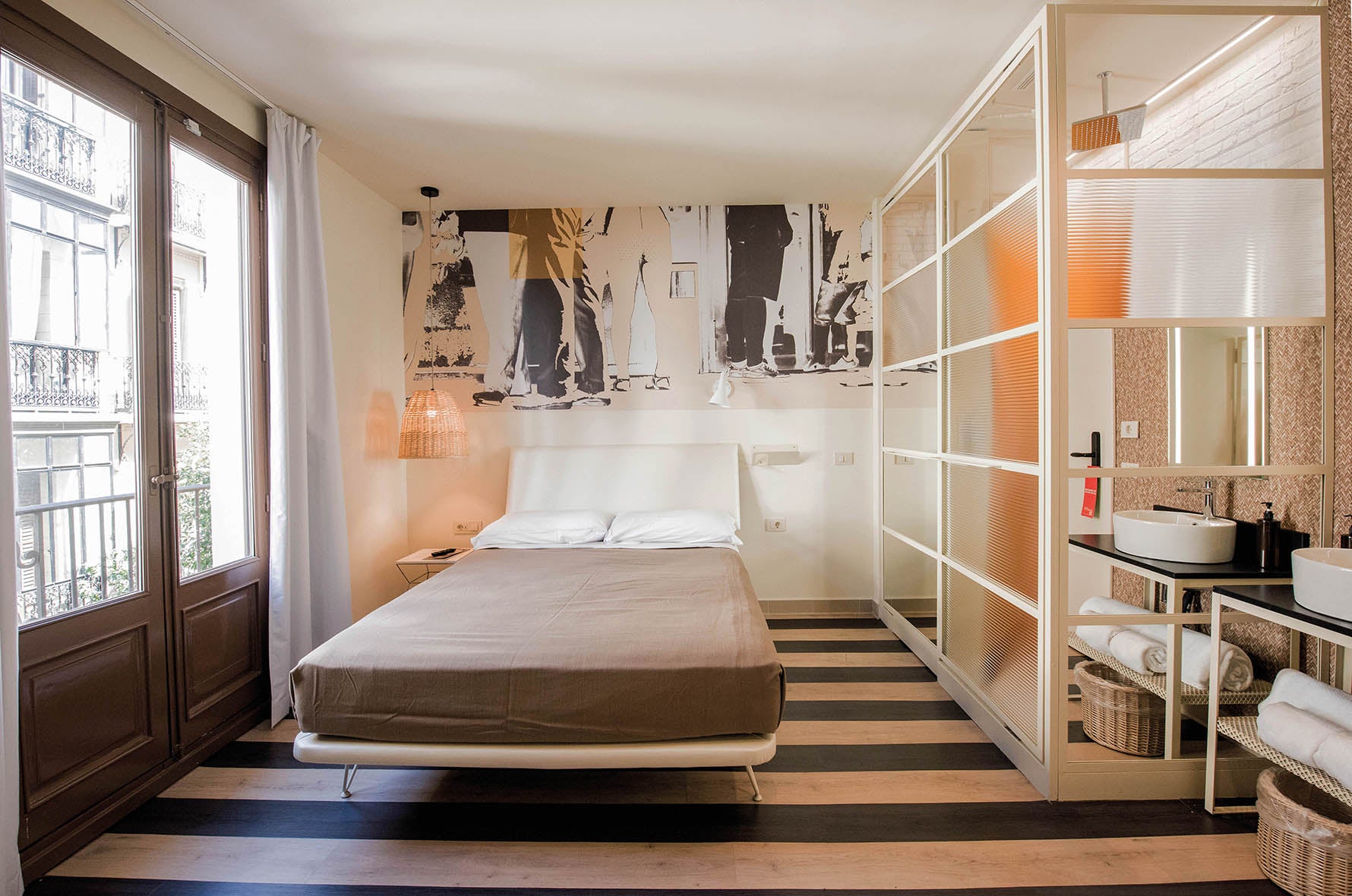 Gone is the idea of the hostel as a low-quality accommodation option, with inhospitable rooms, dishevelled bathrooms and indolent staff. In recent times, we have taken a step forward and we are looking at this business model in a much more attractive way, with a more developed and ground-breaking concept in which modern design and interior design predominate, offering a wide variety of services and, furthermore, promoting a good atmosphere among our guests.
It is a fact that this type of accommodation is gaining more and more fans every day. Tourists are increasingly looking for better value for money and it is quite possible that, with the forthcoming regulation of tourist accommodation, a large part of the demand generated by this type of travellers (looking for more economical stays) will be displaced to this other type of accommodation, making hostels the perfect alternative to Airbnb or Home Away, among others. Proof of this is that, among its most popular customers, the millennial segment stands out, which represents today its largest market share.
Most hostels offer a wide range of rooms, from rooms with bunk beds for 10 people (or more) to single rooms. For this reason, in cities such as Madrid or Barcelona, prices can vary between 10 and 150 euros in the same establishment. Hostels are also defined not only as accommodation, but also as, offering gastronomic experiences, cultural and leisure events, work and chill-out areas, etc.
The hostel phenomenon has also attracted the attention of investment funds and international chains, which are betting on investment in this model of accommodation, among other things, because hostels do not require investments as high as hotels, but nevertheless, the returns are quite high, even surpassing in some cases those obtained by hotels. A determining factor to take into account is that the operating costs of hostels are lower than those of a hotel and this results in higher EBITDA (earnings before interests, taxes, amortization and depreciation). In addition, the hostel concept, in accordance with the legislation in force in Spain concerning this type of establishment, favours the conversion of buildings that, either because of their size or the characteristics of the property, are not suitable for hotel, office or residential use.
Therefore, in recent years in Spain (especially in Madrid and Barcelona) there has been a boom in hostels with the emergence of new chains and brands.
In order to better understand and analyse the growing interest in this type of establishment, we have interviewed Ignacio Requena, founder of the Room 007 chain, whose journey in the hostel business began in 2010. The opening of its first establishment was in 2012 (Room 007 Ventura), and before the end of the same year, it opened its second establishment (Room 007 Chueca). Later, in 2016, it continued its expansion by opening another establishment in Puerta del Sol (Room 007 Sol). Currently, it has 2 openings planned in Barcelona and London, and several projects in progress.
What is the origin and why does the hostels chain Room007 arise?
Room007 arose with the idea of implementing in Spain concepts that were highly developed in Europe but had not been introduced in our country, despite Spain being one of the main tourist destinations in Europe and the world. How was it possible that a market niche was not developed as is the model of hostel, which was increasingly successful and more potential customer? After analysing it carefully, we considered that the growth potential was very important, especially considering that at that time competition and developments in the segment were scarce.
Although we had a lot in common with the hotel sector, our idea was to create something more approachable and personal, avoiding the impersonality that often characterizes hotels.
In the end, after many evaluations, we decided to launch ourselves into the hostel industry. The decision was also, in large part, a personal commitment, because we understood that the tourism sector needed a change. Personally, I think that the tourism sector is a segment in constant evolution, which must continue to develop, although not everyone can do the same. One of the most important things for me with this project today is precisely to reinvent the bases that we established and applied at the time, with the intention of turning everything around.
What is the difference between hostels and hotels, both from an operational and an investor point of view?
At the operational level, the biggest difference between one and the other is the services. A person who goes to a hotel wants certain services: a spa service, a room service, etc. Nor do I consider that to be the main reason why people go to hotels, after all, what people want is a place to sleep and shower, because it really is the essence of accommodation, and where I include from Airbnb to 5-star hotels. Knowing this, then each client chooses a series of services and facilities. There are people who seek independence, or have their own living room and kitchen, and that's why they go to an apartment. On the other hand, there are other people who are looking for a place where they have plenty of services, with a swimming pool, sauna, gym and room service, and have their privacy and space, which is why they go to a hotel. Aside from both, we find another type of client, which seeks to live the city and meet people, and it is to this type of client that the hostel model is directed. 
From an investment point of view, the idea of investing in the hostel segment would be summed up in a diversification plan. As an investor, I believe we need to have a diversified portfolio of assets: offices, hotels, hostels, etc.
Going a little deeper, and addressing the issue of profitability, the costs of a hostel are generally lower than those of a hotel, although everything depends a lot on organization and planning. It is not necessary to see an investment in a hostel as if it were the panacea, because it is not like that either, it is another business model that, at the same time, requires a lot of dedication and work so that, effectively, those costs are lower and at the same time you offer the best services. It is a profitable model, if it is managed properly, and not profitable if it is not well managed, like all businesses.
With the emergence of new hostels chains, such as Room007, we can appreciate a 360-degree transformation with respect to the old perception of this type of accommodation, could you define that transformation? How is the new concept of hostel and what links it to the millennials segment?
It is covering a need that was not completely satisfied in our country. I believe that this is causing many people who previously chose a particular type of establishment, know a new type of accommodation, try it and like it, and become one of the multiple users' hostels (families, couples, corporate, etc.).
Within the millennial segment there are many sub-publics, but in the end,  it is a lifestyle. The millennial customer is a type of person who, in general, likes to decide at the last minute depending on his circumstances at that particular moment, which means that at certain times he will be valid for a 3- or 4-star establishment; at another perhaps he will need a tourist apartment, and, on another occasion, he will be looking for a hostel.
Depending on the needs that he has in each moment, he will choose one thing or another, bearing in mind that what is important is his life and his experiences, being strictly faithful to his needs. That's why, for me and for Room 007, it's a very important type of client, since it's a very demanding client, but at the same time very faithful and very grateful, to which if you treat them well, they will respond very positively. One of the reasons for this exigency, from my point of view, is the amount of information he has at his fingertips (something very positive) as it forces you to be always innovating and looking for ways to satisfy him. On the other hand, it is very important for this type of public that you as a hostel can give them more (services) for less (money), something that we try, and we believe we achieve.
The Room 007 brand was launched in Madrid, where there are currently 3 establishments, and there are also plans to open in Barcelona and London; what other Spanish or European cities do you think would be a good bet for the opening of new hostels?
As an investor I would focus on major cities. In Spain, obviously Madrid and Barcelona, but I would also include Malaga, Valencia, Seville and Bilbao. In other words, main cities, which are the ones that attract the millennial public. As for European cities, the same, mainly capitals. In Room007 we are betting on London, but we do not rule out other capitals such as Paris or Milan, to give some examples.
What perspective do you have on the growth of the hostel segment in Spain? Do you think that the regulation of apartments for tourist use will affect its growth in any way?
The growth perspective of the hostel sector in Spain would say that it is unlimited. By infinity I don't just mean opening more units, although it's true that more hostels have to be opened, but also that we have to reinvent ourselves, and everything that we have now in place probably in 5 years will have changed completely, either because of advances in technology or because of consumer expectations. We You only have to look at how things have changed in the last 10 years, so we have to innovate continuously and put everything in doubt.
As far as tourist apartments are concerned, I think it is essential that any type of accommodation is professionalised, as competition is more than welcome, but always on an equal basis.
The Interviewee
Ignacio Requena, CEO of Grupo Room 007 Hotel & Hostels 
Ignacio is CEO of Grupo Room 007, which comprises the following brands: Room 007 Hostels, Room 007 Premium, Room 007 Select and its brand in restaurant business, Saporem. Before Room 007, he was part of LookHotels as Equity and Investment Consultant, combining it with his participation in the Strategy and Development Department from Requena y Plaza
The Author
Jaime Prada, Hotel Broker, Christie & Co España y Portugal
Jaime es licenciado en Business Administration in International Hotel Management por la Escuela Internacional de Dirección Hotelera Les Roches Marbella, y tiene experiencia profesional internacional en países como Reino Unido, Qatar, Hungría y España. Antes de unirse a Christie & Co, Jaime ganó experiencia en el ámbito hotelero internacional, en primer lugar, en el área operativa en el Hotel Saint Regis Doha (Qatar), donde pudo conocer en profundidad el funcionamiento y la industria hotelera de lujo. Más adelante, fue seleccionado para un programa de M.I.T. por la cadena de hoteles Kempinski en Budapest (Hungría), en el cual se preparó para desempeñar posiciones de liderazgo en la dirección del hotel.